About Jalarm Bapa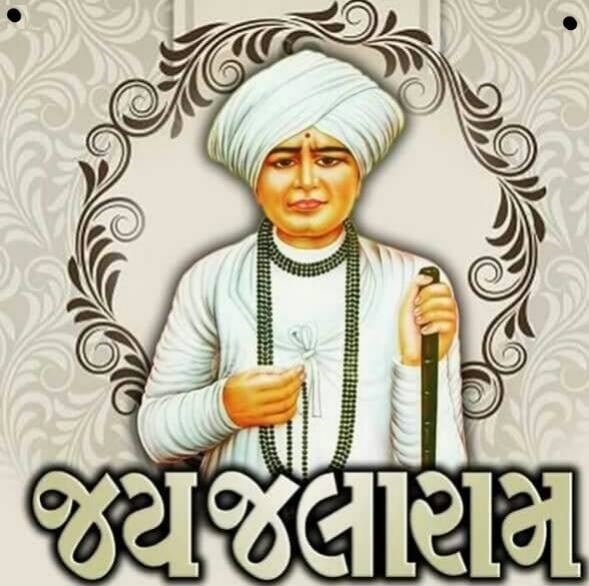 A Useful Guide about Jalaram Bapa and Virpur Mandir
Introduction
Gujarat has given a lot of saints and one such saint of Gujarat that lived in the 19th century is known as Bapa (meaning Great Dad). initiated the traditions of feeding the needy, poor, and everybody else that came to him. Jalaram Bapa, well-known as Bapa was a Hindu religion saint from Gujarat. Bapa is worshipped by a lot of people across the world for his holy qualities as well as his ability to do miracles but above all, he is remembered for his unselfish works of charity. Although Bapa was from the Lohana group, his influence and work reached to all because he considered that all the religions and castes equally need respect and help.
Jalaram was born on 4th November 1799, one week after Diwali, on the 7th day of month of Kartika. Pradhan Thakkar was his father's name was as well as Rajbai Thakkar was his mother's name. Jalaram Bapa wasn't ready to live a householder's life or continued to look after his father's business. His main interest was to serve pilgrims, saints, and sadhus so, he disconnected himself from the father's business.
Marriage
In 1816, at 16 years of age, Jalaram married to Virbai, Atkot's Pragjibhai Thakkar's daughter. Though he was prone to completely take out from the materialistic life to become austere, Virbai had proved to become the strength for him as well as his work of feeding needy and poor.
Family
Jalaram and Virbai had one daughter called Jamnaben from the marriage relation. Shri Jalaram Bapa has adopted Harirambhai, Jamnaben's grandson, in his descendant, Giridhar Bapa, as well as his son Jaisukhram Bapa, are heading the Gadi of respected Virpur memorial of Bapa.
Holy Journey
At 18 year's age, soon after coming from a pilgrimage of holy Hindu places, Bapa became the follower of Fatehpur's Bhoja Bhagat, who acknowledged Japaram as his follower. He has provided Guru Mantra as well as Japa Mala to Jalaram of GOD Rama. With his Guru's blessings, he initiated "Sada Vrat", a domicile where any Saints, Sadhus, and needy people can get food at any time.
Miracles of Jalaram Bapa
When a tailor called Haraji was having acute stomach-ache went to Jalaram to get cured. Jalaram prayed GOD and Haraji's pain was gone. He fell to the Jalaram's feet as well as addressed him 'Bapa'. Since then Jalaram was recognized as 'Jalaram Bapa'. His reputation spread very quickly and people kept coming to him to solve their problems and discard their diseases. Jalaram Bapa just prays for them to Lord Rama and then miracles taken place. Both the Hindus as well as Muslims have become his followers. In 1822, the son of the wealthy Muslim merchant named Jamal fell sick and medics gave up their hopes. At that time, Haraji the tailor told Jamal about Jalaram Bapa. Jamal had prayed that in case his son gets cured from the disease, he would provide 40 maunds grains to him to be used in Sada Vrat. Soon, his son was in good health and Jamal went to Bapa with the carts loaded grains as well as given him a new name, 'Jalla so Allah'!
Once, an aged saint instructed Bapa to send his wife Virbai to assist him. Jalaram asked her and when she agreed, he sent hos wife with that saint. After walking for some time, they have reached a forest, then the saint told Virbai to stay there for him. The saint dot disappeared and never come back. In its place, she heard the Akashwani stating it was a test of their hospitality. Before that saint vanished, he left the Danda – staff as well as Jholi- Cloth bag, which is still kept at Virpur in the glass enclosure for display.
Jalaram Jayanti
The birthday of Jalaram Bapa is celebrated as 'Jalaram Jayanti' on the 7th day of Shukla Paksha in the Hindu month of Kartika. It comes on the 7th day after Diwali. On that day, the devotees are served with the meal as Prasad. You can enjoy the huge festival and fairly organized at Virpur on this day and millions of devotees come to Virpur to visit their Saint and also take Prasad of Khichdi, Kadhi, Bundi, Ganthiya, and Sabzi. Jalaram Jayanti is celebrated across all Jalaram temples around the world.
Temples
The main temple of Bapa is situated at Virpur and this temple is the house where Jalaram had lived his life. The temple houses the possessions of Jalaram as well as the idols of Rama, Lakshamana, Sita, and Hanuman adored by him. This also has a display of Jholi & Danda supposed to be provided by GOD. However, the key temptation is the original photograph of Jalaram Bapa, which was taken just one year earlier than his death. The Jalaram Temple is the one-of-its-kind temple in this world, which isn't accepting any donations since 9th February 2000.
You can find various temples of Jalaram Bapa today across and outside India including East Africa, the United Kingdom, New Zealand, and the United States of America.
Activities Done By Jalaram Mandir
Jalaram Mandir remain open 24 hours a day and it runs 'Sada Vrat'. Mandir is giving food at no cost to devotees.
The 'Prasad' consists of Khichdi, Kadhi, and Sabzi, which is very famous .
You can witness Jalaram Mandir's open kitchen, which is open for all to visit.
Jalaram Mandir runs without any donation. The Mandir trust is not taking any donation since 9th February 2000. It's believed that the Mandir Trust is financial capable now – by which the Mandir and all its activities can run for 100 years.
The Jalaram Mandir temple trust runs different regular activities including Bharatnatyam, Yoga Classes, and Table Classes to all devotees as well as interested individuals.
Jalaram Mandir Located at Gujarat,Patan have been doing philanthropy work for a while now, that includes Food for needy, tiffin service for patient and their relatives. You can see full list of activity here by Patan Jalaram Mandir –
Death
Bapa died on 23rd February 1881 while praying. Bapa was a heavenly soul that worked unselfishly for humanity. His works have inspired millions of people for following the path of service and humanity. Every year, thousands of people around the world are celebrating Jalaram Jayanti on his birthday. All his Mandirs are still serving the same Prasad – Shaak, Khichdi-Kadhi" to remember completely selfless deeds of Jalaram Bapa.