Are our kids well equipped to handle failure?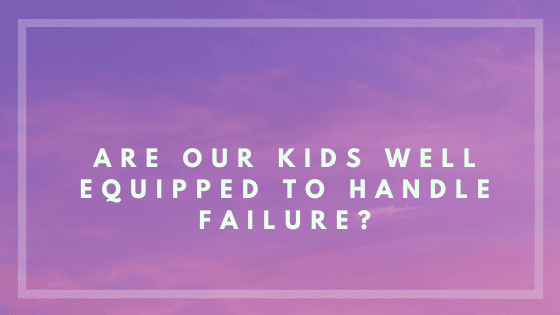 I deliberately chosen this topic(failure) to write over because we hardly discuss about failure. We all hate failures and we all want our kids to become successful. However, very few parents seems concerned about "what will happen if our kids do not succeed and fails"
This topic came to my mind because today when I went to collect result(2nd Standard) of my kid. I looked at the result and was very happy and congratulated my kid and teacher both. But a minute later I realized that how is that even possible to get 99% out of 100%. Most of the students in the class had similar result. I even went ahead and asked teacher what he is doing right ? What is unique that he got so many marks ? Unfortunately, I did not get an answer which can justify the marks my son got. Which made me think of following 2 points
1) Are our kids well equipped to handle failure?
2) Should educational institute need a reality check? Are they actually educating our kids or trying to make us happy because we pay very high educational fees?
Let's discuss this topic briefly
1) Are our kids well equipped to handle failure?

Unfortunately, the answer is NO – we all are making our kids program for only success thinking that success is the only way to move forward in life and not failures – the culture of failure needs to re-looked at – we should all consider failure part and parcel of our life rather than considering as full stop. Being early 90's kid I really think that kid of '90s are more equipped because from the childhood we used to get a lot of advices from our teachers, parents, neighbors and friends, relatives – And nowadays every kid is getting good results and this culture is really not good in a longer-term. As slowly we all are getting used to the success but we all are forgetting the basic rule of life – that failure bound to happen sooner or later and the law of averages applies to every individual.
Wiki data shows the numbers of suicide in India – even though numbers are old but they are still relevant to the topic that we are discussing.
Most of the data for "Cause of Death" are directly related to how you handle pressure and reach to failures and when you go through a bad phase of life
It is really worrying for me as a parent when I look at this data – I mean why would a young boy commit suicide? because our young generation simply doesn't know – what to do when they fail? Or we don't guide them enough?
Point is if we don't guide them – To whom they consult – and at first place why he/she even consult when he/she doesn't know what is a failure – and why?
Educating kid to me is different thing, I prefer education which teaches to kid on how to deal with problems and to teach them real definition of success and not what says what success is – to me every individual has a different definition of success – to me when my kid tell me that he had made 1 friend in school that to me is success – when my kid spend quality time with his/her grandparents – when he says that he had helped someone – when he said I lost but I will try again and see how it goes.
I always tell my kid it is perfectly alright to get failed – but not to try again is an actual failure.
Becoming a friend is a great way to start with, and having proper communication with kids is really important to make them comfortable. Once they are comfortable discussing their problem either with you as a parent or a teacher then it may help them and sometimes a simple pat on the back is good enough to make our kid feel that we are friends. Most importantly teach them 5 by 5 rule – if something is not going to matter in the next 5 years do not waste even 5 minutes to think about that issue.
2) Should educational institutes need a reality check? Are they actually educating our kids or trying to make us happy because we pay very educational fees?
Yes educational institutes like schools, tuition needs reality check, most of the educational institutes consider us like their potential customers rather than parents, as teaching a study subjects alone will never make a kid a success, I still meet my teachers and I still remember the way they used to treat me – I never felt that I was not ready – as they used to share their experience, they used to tell us what this world expect from you – and most importantly what you should expect from your self – this lesson is important from life point of view.
As there is difference between "Well-Trained" and "Well Educated" – well trained person can score a good marks but that does not necessarily mean that he will be successful in life – what our educational institute currently making is well trained – and we all need to be well educated – that includes, failure, financial planning, our duty as a citizen of country and every possible thing that are going to face in our life – along with our duty subject. Unfortunately in real life there is only practical exam and we all have to go through it.
Of course no exam or education can replace what happens in life – but at least we can make them prepare and help them to show the pros and cons of particular decision and then let them make informed decision – and even if they make wrong decision – let it be – at least they will discover one more way or find out the results of failure and let them face it – let them say that I failed but I want to try again – let me think a different way and come to logical conclusion.
So next time when you see your kid's results with 99% , then politely ask the what is the reason for getting such high marks? May be the exam papers were not challenging enough? Maybe your kid is special and intelligent? May be question paper was too easy? Whatever may be the reason but please do ask them this question.
As ultimately we all want our kids to be well equipped with any situation. Remember we all are human. We all fail but that is just a part and parcel of life and not an end of road. There are enough examples in this world where you can literally see that failure was  the key of success. Never give up is the attitude and that we all should keep up. Because if we have this attitude then our kids will see that and will follow that.
Edit 1(Aug 11, 2020)
Many people think and believe that we should not pressurize our kids. Agreed, We should not pressurize our kids un-necessary. But what about the pressure they are going to get on their job or business when they grow up. Or consider today's situation, where a pandemic has spoiled so many lives, business, jobs and there is nothing that we can do here. Do we ?. So rather than thinking about not to pressurize our kids we should rather make our kids strong enough to cop up the pressure and teach them how to handle such pressure.
Just like how we have a plan for winning, we must have a plan when we fail.


Conclusion
1) Let's be a friend.
2) Let's have an open communication channel.
3) Give them a proper logical reason for any decision.
4) Teach them failure is not an end of the road and never give up.
5) Higher fees do not always mean better studies – choose your school wisely.
6) Do not judge your kid based on his/her mark sheet . Its just an assessment of how well he/she did in study and not how well/bad he/she will do in life.